Scott Driscoll WOI Oct/Nov. '13 Tour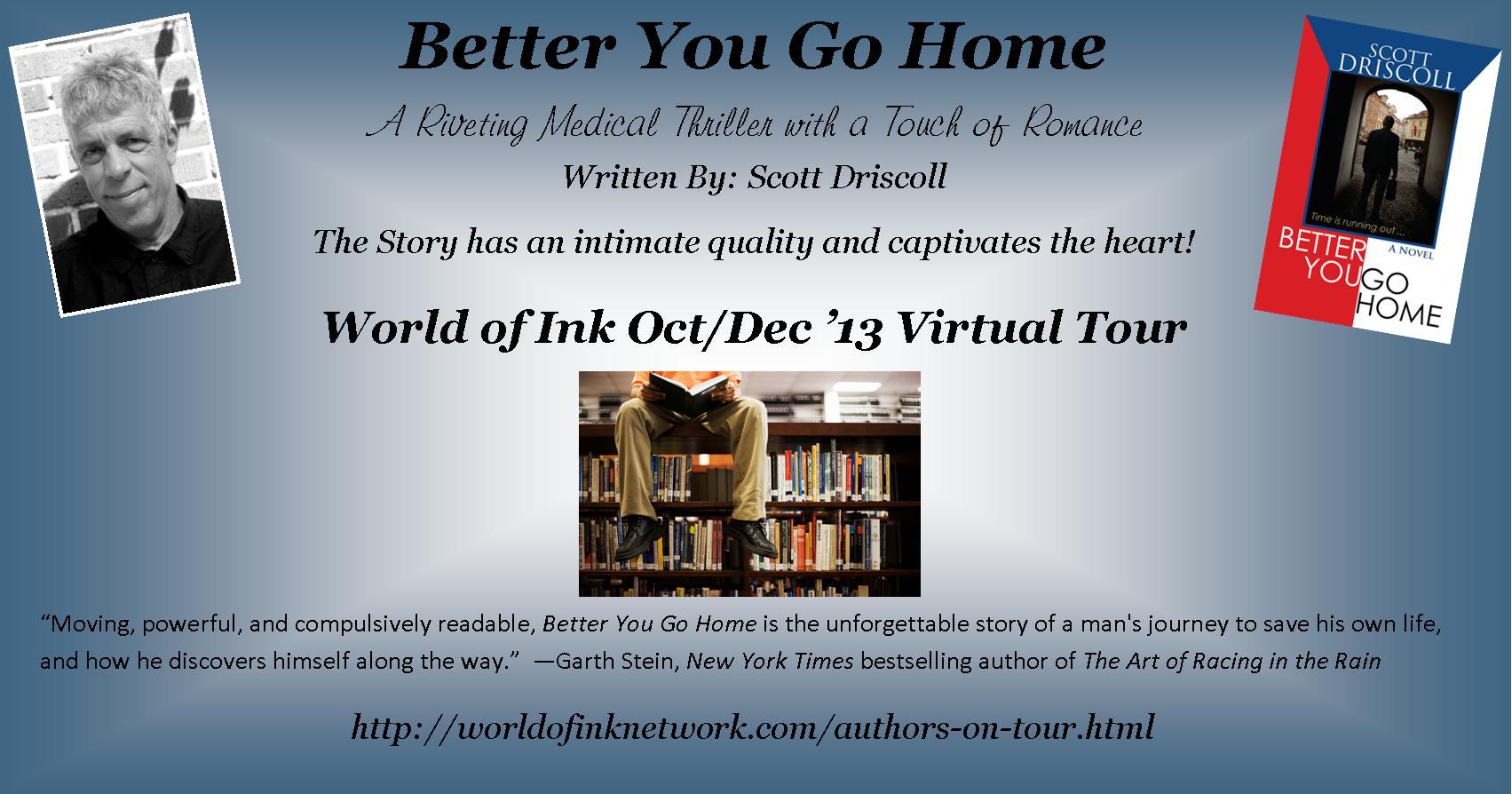 "Moving, powerful, and compulsively readable, Better You Go Home is the unforgettable story of a man's journey to save his own life, and how he discovers himself along the way."
—Garth Stein, New York Times bestselling author of The Art of Racing in the Rain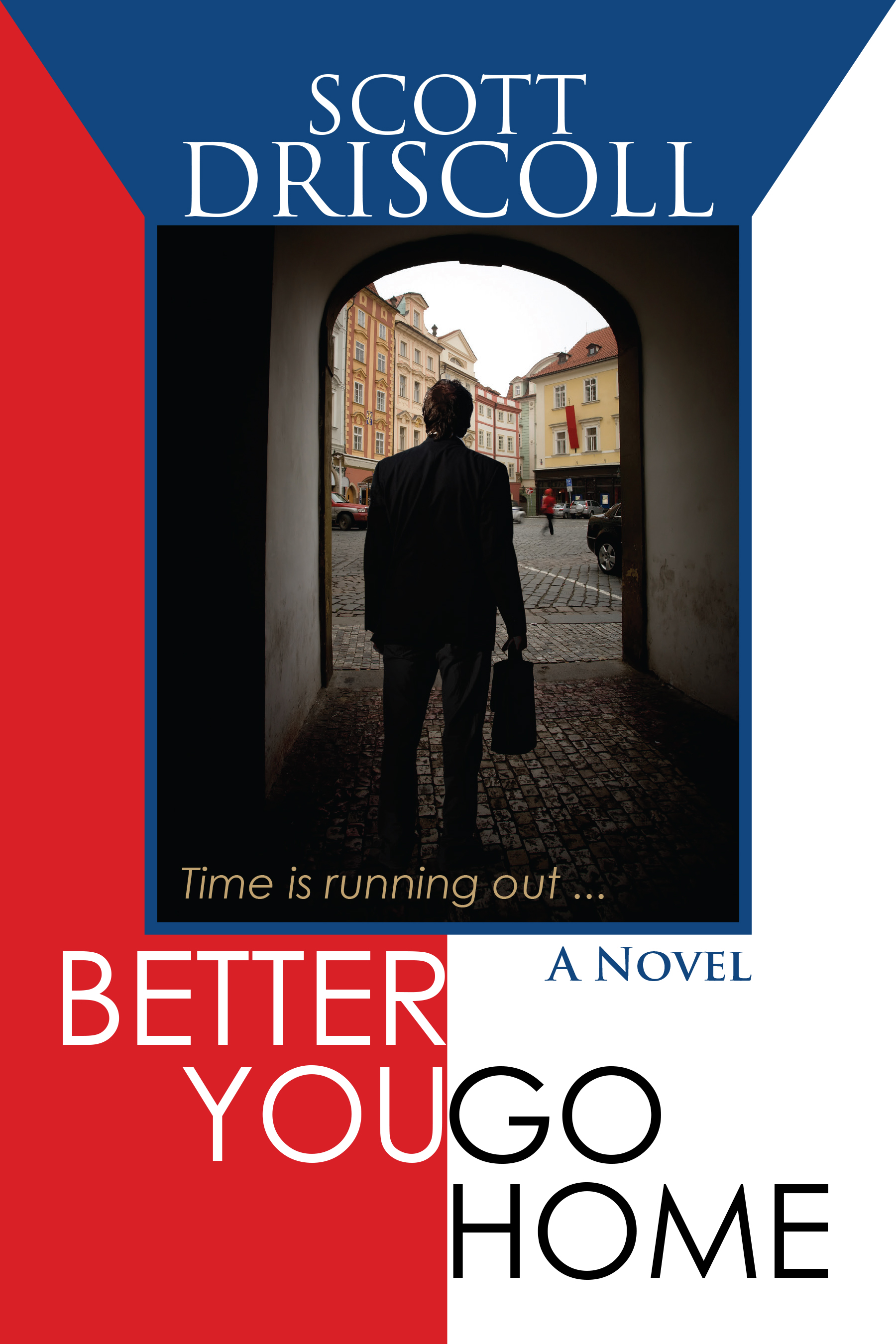 About the Book:
Better You Go Home shares the story of a man visiting the Czech Republic to find his half-sister and uncovers family skeletons.
There is self-interested behind Chico's quest. None of his known relatives can be of help. Chico Lenoch wonders why his Czech father refuses to contact family left behind the Iron Curtain. He also meets Milada, a beautiful doctor who helps him navigate the obstacles to finding his sister. While chico idealizes his father's homeland, Milada feels trapped.
Chico's quest is only complicated more by his urgent need for a donor kidney. Might his sister be a candidate?
Literary Fiction
Release Date: October 2013
Publisher: Coffeetown Press
6x9 Trade Paperback, 236 pp.
ISBN: 978-1-60381-170-5
www.scott-driscoll.com
Bookstores/Libraries: Baker & Taylor, Ingram, Partners West, Midwest Library Service, Follett Library Resources; eBooks: Overdrive, Kobo and other major retailers; for more information or to order direct, contact info@coffeetownpress.com
You can read a couple sample chapters here!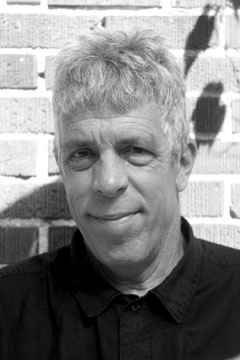 About the Author:
Scott Driscoll is an instructor at the University of Washington Professional and Continuing Education programs where he has taught creative writing for 20 years. He has also taught fiction and creative nonfiction in the Writers in the Schools and Path With Art programs and online through the Seattle-based Writer's Workshop, as well as at Seattle's Richard Hugo House literary center. Scott was awarded the "UW Educational Outreach Excellence in Teaching Award" for 2006.
Driscoll has been awarded eight Society of Professional Journalists awards, most recently for social issues reporting. His narrative essay about his daughter's coming of age was cited in the Best American Essays, 1998. While enrolled in the UW MFA program, he won the Milliman Award for Fiction. "Writing for me is about applying form to the mysteries we suffer."
Learn more at www.scott-driscoll.com
Check out Scott's Blog where he writes about his journey to Pisecna and the politics, people and overall landscape of that part of the world.
Nov. 13th - Third Place Bookstore, Lake Forest Park WA - 7pm
Nov. 15th - University Bookstore, Seattle WA - 7pm
Nov. 22nd - Leavenworth Library, Leavenworth WA - 6pm
Nov. 23rd - A Book for All Seasons Bookstore, Leavenworth WA - 1pm
Dec. 9th - Bellevue Library, Bellevue WA - 7pm