Sands Hetherington WOI July '12 Tour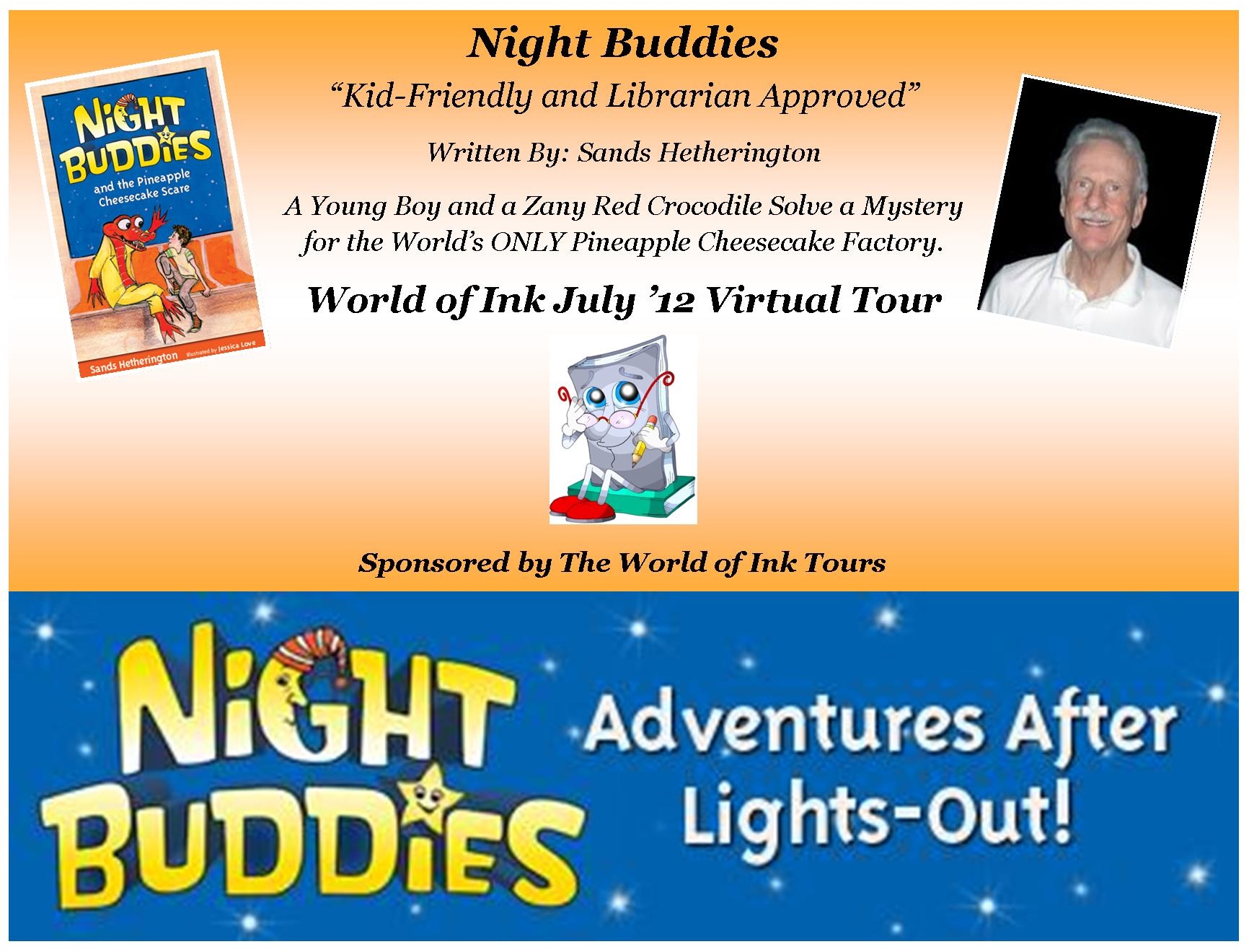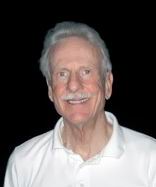 Sands Hetherington credits his son John for being his principal motivator. Sands raised his son as a single parent from the time John was six. He read to him every night during those formative years. He and young John developed the Crosley crocodile character in the series during months of bedtime story give-and-take. Sands majored in history at the University of North Carolina (Chapel Hill) and has an M.F.A. in creative writing and an M.A. in English from UNC-Greensboro. He lives in Greensboro.
Night Buddies and the Pineapple Cheesecake Scare
Written by Sands Hetherington
Illustrations by Jessica Love
List $7.99

Paperback 128 pages Also available in Kindle and Nook
Publisher: Dune Buggy Press; One edition (June 1, 2012)
ISBN-10: 0984741712
ISBN-13: 978-0984741717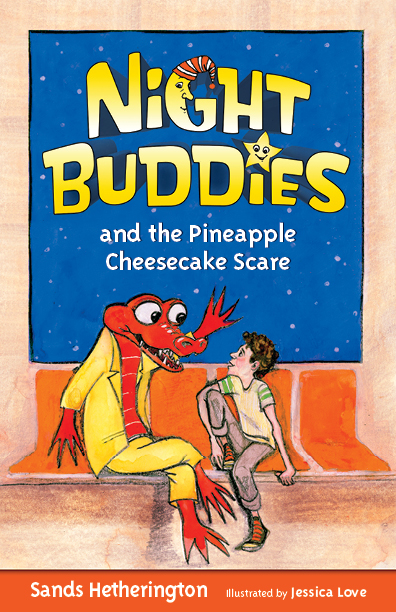 About the Book: When pineapple cheesecakes start disappearing from the world's only Pineapple Cheesecake Factory across town, a zany red crocodile named Crosley enlists the help of young John Degraffenreidt to straighten things out. In this adventure-fantasy, the unlikely pair sneaks out of John's house by becoming invisible, thanks to the I-ain't-here doodad Crosley uses from the bunch of whatchamacallits hanging on his belt. Danger lies ahead as they embark on their Program, the Night Buddies word for Adventure, and make their way around the Borough chasing down enemies and dealing with the perils at hand.


The story is filled with well-drawn fascinating characters embellished with some excellent illustrations by Jessica Love. The fonts change with emotion and circumstances, a fact that makes every page a little artwork that keep the child's eye involved in the book. And just to make sure the youngsters reading this book have the inside information for a mystery, a glossary of 'Night Buddies Uncommon Words' is supplied – explaining 'Jeeks', 'Wuff', 'Snerk!' etc. The 128-page book is packed with all-new picture drawings by illustrator Jessica Love.
Author Website: www.nightbuddiesadventures.com
Facebook Fan Page URL: www.facebook.com/nightbuddies
Publisher Website: www.dunebuggypress.com
Follow the tour on the Facebook Event Page: http://www.facebook.com/events/424957437549723/
Available wherever books are sold and online.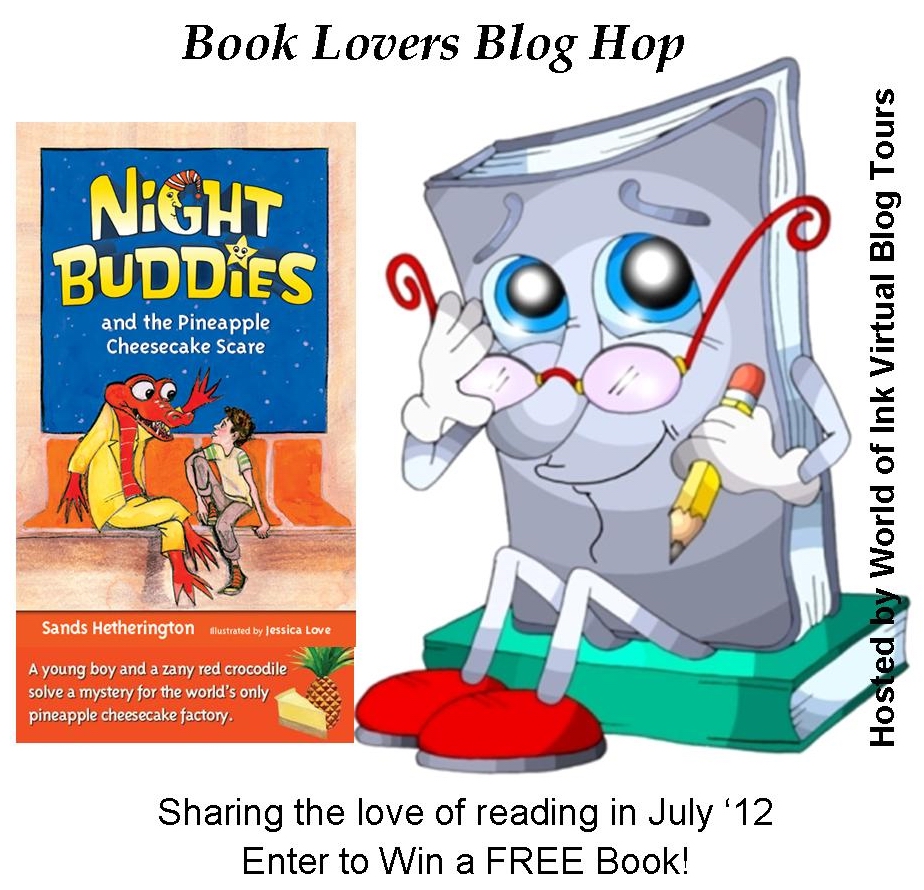 Book Lovers July '12 Blog Hop & Giveaway
Make friends, share the love of reading and be entered to win FREE books! There will be up to 2 winners during this Book Lovers Blog Hop & Giveaway. All you have to do is enter the giveaway at http://familiesmatter2us.blogspot.com
There are many ways you can enter.
1) Promote the Book Lovers Hop and this World of Ink Tour on any social network.
2) Tweet it once a day.
3) Share on Facebook.
4) Like the Book Lovers Blog post.
5) Leave a comment at the Book Lovers blog post.
Also, don't forget to follow those who have joined the Book Lovers Blog Hop. By joining the Book Lovers Blog Hop, you are automatically entered in our Book Giveaway! There will be up to two (2) winners for this July '12 Book Lovers Blog Hop & Giveaway.
Note: one book per winner.

~Night Buddies June '12 Blog Book Tour Schedule~
1. April Renn
www.mybookaddictionandmore.com
June 4 for Q&A and Giveaway
2. Sue Morris
June 5 for Q&A
3. Susan Heim
June 6 for guest post and giveaway
4. Diane Robinson
http://www.dianemaerobinson.blogspot.com
June 9 for review
5. Donna Lawrence
http://bookloversparadise.blogspot.com;
KidsnBooks
http://kidsnbooksdonna.blogspot.com
June 10 for guest post, excerpt and giveaway
6. Inspired Kathy
http://iamareadernotawriter.blogspot.com
June 12 for interview and giveaway
7. Eric Weibel
http://thiskidreviewsbooks.com
June 13 for interview and giveaway
8. Paula Phillips
www.thephantomparagrapher.blogspot.com
June 14 for review and guest post
9. Nicole Langan
http://tributebooksreviews.blogspot.com
June 15 for interview
10. Marshal Zeringue
http://coffeecanine.blogspot.com
June 18 for interview
11. Norma Willis
June 19 for review
12. Maggie Castelluccio
June 21 for guest post and giveaway