Paul Steinberg WOI 2016 Tour

About the Book:
The conclusion of the Heartsense trilogy continues the story of Dalton and Sienna. Their friends are getting married and starting families, but not everything is perfect. An old nemesis returns to his wayward pursuits. Having been hired by Sienna's parents to take over their foreign interests, Tony Choice begins a campaign to undermine the company and regain control of the publishing empire he lost.
Series:

Heartsense Trilogy


Paperback:

528 pages

Publisher:

Paul Steinberg (April 30, 2016)

Language:

English

ISBN-10:

0991085345

ISBN-13:

978-0991085347


First Two Books in the Heartsense Trilogy
Dalton Hunter is about to meet the love of his life, not in the new school he has enrolled in and not on the bus ride home. She'll be waiting for him when he falls asleep.

Sienna starts as Dalton's friend and advisor as he faces challenges during the day. There are new schools, first parties, first girlfriends, an interest in photography that she will encourage, and eventually college. As they grow up together deepening feelings arise that neither can deny, but that both struggle to resolve. Dalton often worries that Sienna is imaginary. Their magic nights lead to his career in fashion photography. With Sienna as his inspiration, success comes quickly. The resulting recognition attracts the notice of Samantha Choice, editor of Fashion Expose magazine. Samantha is sexy and intelligent. She decides Dalton is her perfect match. Dalton must decide between his dream girl and the real Ms. Choice.

Series:

Heartsense Trilogy Book 1


Paperback:

462 pages

Publisher:

Paul Steinberg (October 20, 2013)

Language:

English

ISBN-10:

0991085302

ISBN-13:

978-0991085309Within this novel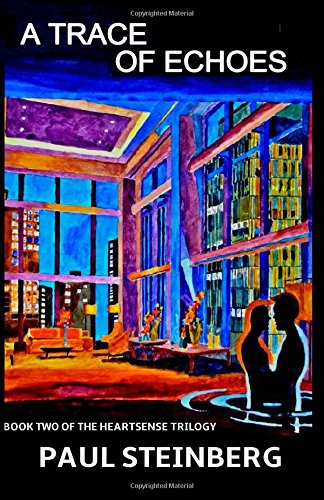 The Heartsense trilogy continues as Dalton Hunter and Sienna Snow have finally met face to face. The connection shared in Dalton's dreams has developed into a channel that keeps the pair linked continuously. It is a link that holds even more magic, but is not without drawbacks.

Having been forced out of his job at Fashion Expose Magazine, Dalton begins the task of opening his Dream Brink photography studio while Sienna opens an office for her parent's corporation. Each of them brings family members and friends into their slowly growing circle as they prepare for a fall wedding. Not everything is blissful. Dalton's recently ended relationship with Samantha Choice has left some hard feelings behind and a growing animosity in the person of Tony Choice, her father. The strength that Dalton and Sienna find in each other will be tested as a circle of alliances and rivals threatens their happiness.

Series:

Heartsense Trilogy Book 2


Paperback:

532 pages

Publisher:

Paul Steinberg (February 16, 2015)

Language:

English

ISBN-10:

0991085329

ISBN-13:

978-0991085323
Editorial Reviews
"Within this novel we hear the father's voice, Sienna's voice and that of a third person narrator who relates the other events that happen. When his father gets married and then he goes off to college things change. Many women vie for his attention but Dalton is conflicted with his emotions and relationship with Sienna and a professor who has her sites set on him too. But, where will this go and what happens when the real world and fantasy come together in the present? Time intervals pass quickly and we don't often get to see how Dalton deals with this father's relationship in total or do we learn about his years in college as they pass rather quickly in the story winding up with Amanda his professor wanting to get him a job in fashion photography even though he wants some type of art. Her motives might appear to be good but her intentions might surprise the reader." ~Amazon Voice Review for Hurry Moon
"I received a copy of "A Trace of Echoes" in exchange for an honest review. After reading "Hurry Moon," I was excited to learn the direction Dalton and Sienna were going to take in both their relationship and their lives, and this story lived up to my expectations. The special connection that draws the two together makes for a deeper relationship than most people have, but that doesn't mean that their lives aren't adversely affected by the happiness they find. "A Trace of Echoes" addresses many types of love and relationships—romantic, parental, friendship—and the often blind emotions of each that cause a ripple effect in the lives of those around them. Jealousy, revenge, and disappointment are all factors governing Dalton and Sienna's friends, family, and co-workers, which, in turn, directly impacts the young couple's lives. This story is deeply textured with descriptive details that put the reader in the story, making it difficult to not become involved in the conflicts and loves of Dalton and Sienna, as well as the other characters in the story. I highly recommend both "A Trace of Echoes" and "Hurry Moon." ~Amazon Reviewer Denise
Available at Amazon.com, B&N, local bookstores and libraries.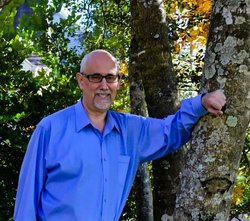 Author Bio:
Back in high school, I spent my senior year trying to decide between my interests in art, music and writing. I had some talent in each, but had to try to decide what might give me the best chance of making a living from my creative pursuits. In college, I added theater to my list of artistic channels. In the end I chose painting because at that time, I felt it gave me the best chance to succeed since I would have more control of the product in terms of finding customers and selling to them directly. I spent the next several years having some success as a painter. I won some awards and did some work that others have found enjoyable enough to want to purchase. My painting has given me great satisfaction, but I missed the other forms of expression.

Several years ago, I had an idea for a romantic story where the main character has a lifelong relationship with a girl in his dreams. I created a screenplay as writing the dialogue was the most comfortable part of the process then. The screenplay took a year to write. It took me an additional 3 years to convert the screenplay to the novel Hurry Moon. With the technology now available, I am no longer dependent on others to determine my worth as a writer. I will leave that determination in the hands of those who find the story appealing.

I have put everything I have into these novels, and I hope you find them each a pleasant read.

Author website:http://www.paulsteinbergauthor.com/