Marsha Casper Cook WOI Tour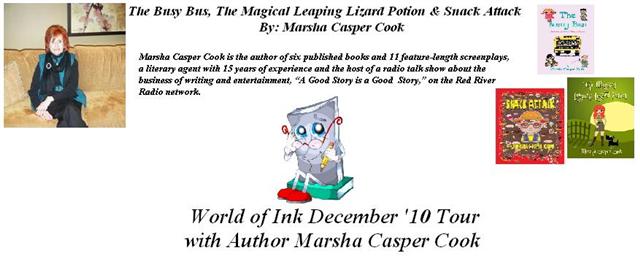 Marsha Casper Cook is the author of six published books and 11 feature-length screenplays, a literary agent with 15 years of experience and the host of a radio talk show about the business of writing and entertainment, "A Good Story is a Good Story," on the Red River Radio network. She and her guests discuss writing and what's new in the entertainment field. This year, she also began hosting another talk show "The Whole Truth"; on this show she and her guests discuss day to day issues that effect family life. Marsha has also appeared as a guest on other network shows and will continue to make frequent visits to other shows.
Her published works include "Love Changes," a romantic novel about a family in crisis, and "Sala, More Than a Survivor," a non-fiction biography about surviving the Holocaust. She has also written three books for young children, including the short stories "Snack Attack" and "The Magical Leaping Lizard Potion" and the poetry collection "The Busy Bus." She has just completed the fourth book in her children's series. Marsha has also published a book version of her romantic-comedy screenplay, "It's Never Too Late."

Marsha's other screenplays range from romantic comedies to crime thrillers to family dramas. Her scripts "Grand Central Station" and "Romancing Gracie" were optioned by movie studios, and the latter was named a finalist at the ASA, Houston and Chicago Film Festivals.

Wanting to help new writers reach their goals, Marsha founded the literary agency Marcus Bryan & Associates in 1996, and achieved signatory status from the Writers Guild of America (WGA) within two years. In that capacity, she has represented more than 100 screenwriters and authors, and has also optioned books to movie production companies. Marsha has spoken about her work and the craft of writing to a wide range of audiences including bookstores, schools, museums and local cable and will continue to speak to the media.
The Busy Bus by Marsha Cook is a delightful collection of poems. The poems are witty and fun color illustrations making it a wonderful read along book. The Busy Bus is sure to generate smiles and giggles for young children especially when read out loud. It's great in a classroom or library, too. Not only is this amusing but it gently speaks of relationships with siblings & other social issues facing children. The author routinely donates a percentage of book sales to various charities.
Publisher: FIDELI PUBLISHING
ISBN Number: ISBN 9781604140637
Publication Date: 2008
This is a whimsical story about thirteen junior witches who must pass a test of true bravery before they venture out into the world as full-fledged witches. It includes color illustrations.
Publisher: Fideli Publishing
ISBN Number: 978-1-60414-135-1
Publication Date: 2009
Addison thinks he s got the best mommy in the whole world when she lets him have whatever he wants to eat for breakfast, lunch and dinner even when it's chocolate candy, cookies and ice cream. Addison quickly learns how easy it can be to have too much of a good thing and that mommies & daddies really do know best! Snack Attack teaches a great lesson to Addison and to other kids in a very subtle way that eating healthy is definitely better for you.
Publisher: Fildeli Publishing
ISBN Number: 978-1-60414-123-8
Publication Date: 2009
Author Website: www.michiganavenuemedia.com
Blog Address: http://agoodstoryisagoodstory.blogspot.com/
Publisher Website: www.fidelipublishing.com
Book Places where Marsha Casper Cook's books are available:
http://amazon.com
www.michiganavenuemedia.com
www.marshacaspercook.com
www.marcusbryan.com