Kasey Crawford Kellem WOI Feb '12 Tour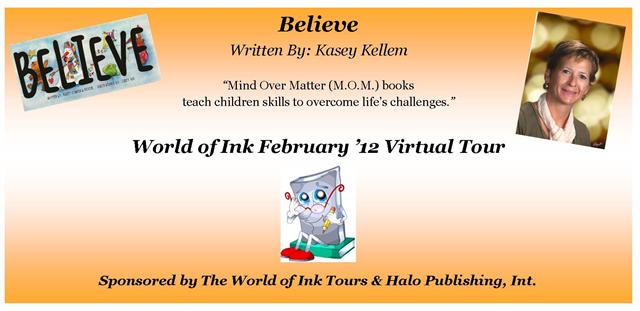 Kasey Kellem, a School Counselor and former Special Education Teacher, has devoted her life to helping children facing adversity be resilient. Kasey created Mind Over Matter (M.O.M.) books to teach children skills to overcome life's challenges. She has earned a Bachelors Degree and Masters Degree in Special Education and an Educational Specialist Degree in Counseling. She is a devoted wife, stepmother, sister, daughter and counselor.
Published by Halo Publishing, Int.
ISBN: 978-1-61244-039-2
Educational - Hardcover
Ingram Distribution Nationwide
About the Book: Mind Over Matter Books are geared towards young children to help them learn how to be resilient. Children need to be prepared with the right tools to face the challenges, adversity and obstacles that may become a part of their lives. This book shows, through whimsical illustrations and simple wording, how to be resilient. These books are designed to also serve as decorations in a child's bedroom or playroom on book shelves, nightstands, or desks, which will serve as constant resiliency reinforcement.
BELIEVE is the first of five books emphasizing the important factors for resiliency. In this book, children will learn to BELIEVE in their possibilities. These books are also designed to be decoration on bookshelves, nightstands or desks in a child's bedroom or playroom, which will serve as constant resiliency reinforcement. Look for additional M.O.M books in 2012: LOVE; LAUGH; RELAX and DREAM.
Author Website: www.mindovermatterbooks.com
Blog Address: www.mindovermatterbooks.blogspot.com
Twitter URL: https://twitter.com/#!/kaseyc7
Facebook URL: http://www.facebook.com/pages/Mind-Over-Matter-Books/148030188625482
Facebook Fan Page URL: http://www.facebook.com/events/209056922524667/
Places where book is available for sale:
Halo Publishing www.halopublishing.com
Amazon
www.mindovermatterbooks.com
For Speaking Engagemens, Book Singings or Readings
Contact the Author at:
Kasey Crawford Kellem
Email: MindOverMatterBooks@gmail.com
Website: www.mindovermatterbooks.com
Blog: www.MindOverMatterBooks.blogspot.com